Have you ever been intrigued with the origin and physical and optical properties of a diamond? Have you wanted the opportunity to grade diamonds and understand the importance of the "make" of a diamond and the other 4C's? Or to identify natural diamond and differentiate between synthetic and simulant stones.
Have you wondered how gemstones are formed and how to identify gemstones from their optical properties? Do you understand durability and how it affects gemstones set in jewellery? Could you identify a synthetic gemstone from its natural counterpart?
Our Diamond Grading and Gemstone Studies short courses are designed with content led modules which will enable you to benefit from knowledge and practical experience and gain further insight into the diamond and jewellery industry.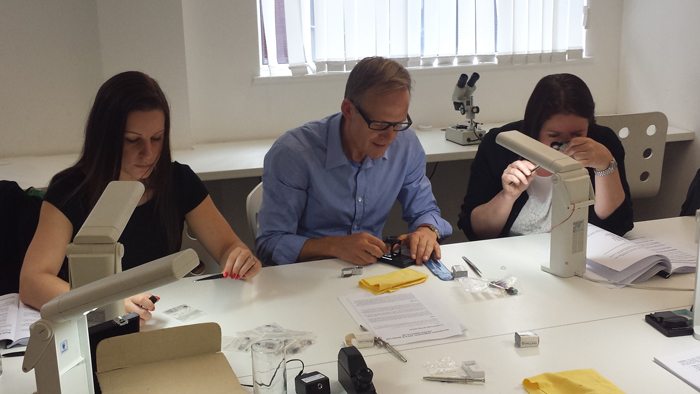 Both trade and clients working in both the public and private sector have improved their knowledge following these courses and some have taken their passion and hobby to another level and are now buying and selling diamonds and gemstones independently.
In partnership with the British Academy of Jewellery in Hatton Garden, for the last eight years we have delivered various short courses which can be completed over a weekend. There are numerous courses throughout the academic year for you to choose and work within your schedule. For further information please click on the links to the right or contact us.
The Masterclasses are geared to particular client requirements and are more bespoke in content and practical delivery. They are popular with staff from luxury brick and mortar retailers, independent retailers and e-commerce sites who require further education with more specific topics facilitating confidence and engagement in conversation with clients.
Attendees benefit from more specialist content and practical experience covering the key topics below, though this list is not exhaustive:
The cut of a diamond
Fancy colour diamonds
Understanding grading certificates
Use of Rapaport list & Rapnet
Understanding diamond value
Jewellery manufacturing techniques
Metals for jewellery manufacture
Setting of diamonds and gemstones
Rough Diamonds
Short Courses at the British Academy of Jewellery

Where the Courses Are Held