The definition of bespoke according to Wikipedia is an adjective for anything commissioned to a particular specification. "Custom-made", "made to order", "made to measure" and sometimes "hand-made" are near-synonyms.. The word bespoke is derived from the verb to bespeak, to "speak for something", in the specialised meaning "to give order for it to be made" or commission. Specific uses we are familiar with include:
Bespoke tailoring, men's clothing made to the individual measurements of the customer.
Bespoke software, software written to the specific requirement of a customer. The term bespoke in the jewellery industry today has taken on several guises. To explain in more detail, we are looking at different methods now employed in the manufacture of jewellery today. True bespoke jewellery is defined as "hand made" where the entire mount has been created by hand. The mounter will have bought the sheet metal and wire and will have fashioned the mount using traditional mounting techniques at the bench all by hand.
All the jewellery I created prior to 2006 would have been made by hand and it would have been at a price that was affordable by professionals working in the City.
Bespoke Jewellery process
With the advent of CAD/CAM, this process has revolutionised the industry and made bespoke jewellery accessible to everyone. Manufacturing costs have been slashed by 40% as there is little wastage on metal and a saving on labour time to complete mount. I will add that this has in no way compromised the setting of a mount, as this stage of the process can make or break a beautiful ring dependent on the ability and experience of the setter.
'The old school' in our trade argue that this method of manufacture has compromised on the finish of a ring as it can look too engineered. I do not agree, although pieces are now cast and assembled it still takes a good mounter with traditional mounting techniques to finish off a ring that actually does look handmade.
If you have a look at my gallery on website can you differentiate between hand made and CAD/CAM jewellery. Do let me know! But I would like to add Bespoke jewellery and define the term as jewellery individually commissioned to suit the individual requirement of a client. However, it implies a perception of a luxury service reserved for the wealthy who can choose a diamond or gemstone of choice and have it set into a customised mount that will offer pleasure to the recipient. I think everyone should be able to consider 'bespoke' and I would encourage you to have a vision of what you would like to achieve and write down what you clearly want and don't want.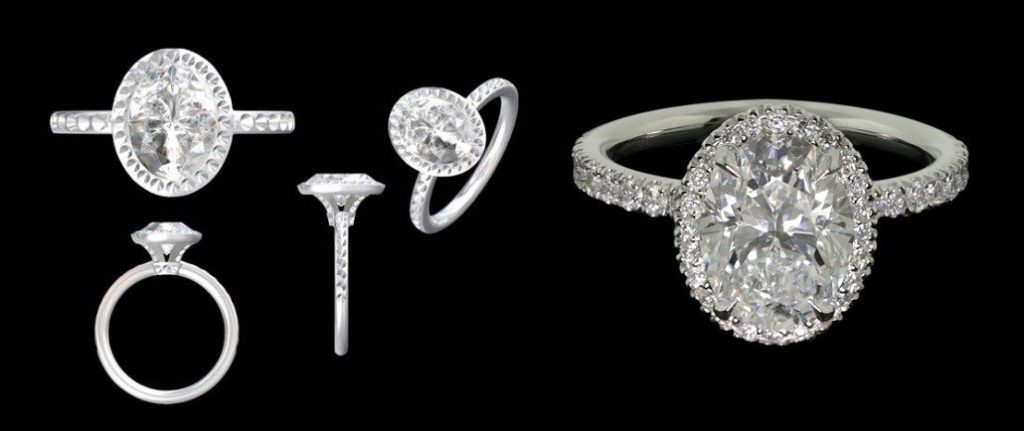 The benefits of working with a Bespoke Jeweller are:
Education of the 4C's, the variables governing value of diamond.
Peace of mind with ethically sourced certificated diamond and gemstones.
Unique design to suit your requirement.
High quality product.
Excellence of service.
Emotional and aesthetic value at an affordable price.
An expert bespoke jeweller facilitating the process will really understands your expectations, diamond , gemstone sourcing and bespoke jewellery design so they can help you achieve a precious item to last a lifetime.