My client's brief from our initial telephone conversation was to source a 2.00 carat round brilliant cut somewhere between G-H colour/VS-SI1 clarity on a GIA certificate with a view to have a classic solitaire ring created for his wife. Both clients met with me shortly afterwards and I had prepared in advance four brilliant cuts all with different benefits ranging from higher colour/weaker clarity to an excellent make of diamond. Make of diamond refers to the harmony of the ideal proportions of a diamond which enables maximum light return called brilliance and also refers to the finish of diamond which reflects the skill of the diamond polisher who applied the facets and created perfect symmetry of the diamond from the original rough.
There was no competition in choice of diamond, after explaining the 4C's the variables governing the value of diamond, both my clients chose a 2.04 carat E/SI1 which stood out amongst all other stones. The diamond had excellent cut, polish and symmetry and had strong blue fluorescence which if you managed to read my Fluorescence blog will note that the emission of medium or strong fluorescence in higher colours could impact on the brilliance of diamond. The fluorescence in this stone certainly did not impact on brilliance and only emphasises that you need to see actual diamond before making a judgement on fluorescence.
We then proceeded to the design brief for CAD which was a challenge. My client wanted the design of ring to accommodate her diamond from her original engagement ring which was 3.8mm in diameter and also to accommodate her existing half eternity ring. To conclude the brief, my client also wanted a pink and blue diamond set into the band to serve as a reminder of her two children, a boy and girl. (See the CAD design below)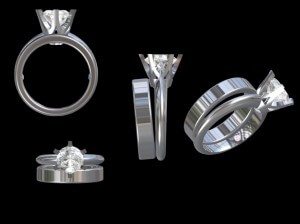 The casting was swiftly assembled and I set the 2.04 carat with talon claws (see top photo above) and then I managed to have set the original brilliant cut set into the finger bezel so the pavilion was almost kissing the culet of the 2.04 carat diamond (see middle photo below) and gypsy set into band a 1.6mm fancy vivid blue diamond and fancy intense pink diamond at 3 and 6 o' clock
(See photos of the blue diamond on the left below and pink below centre).
Result: A classic solitaire with a difference which told a story of their marriage, children and success with the added value of all three stones nestling around her engagement finger.