A client contacted me to view several items of tired diamond and gemset jewellery she had not worn for ages with a brief to refresh into new contemporary mounts so she could enjoy wearing them again. When we met, of all the jewellery viewed one piece stood out above all items. It was a significant sized square step cut octagon aquamarine set in a heavy looking collet with some channel set diamond baguette diamonds to shank. There were a few baguettes missing and damaged.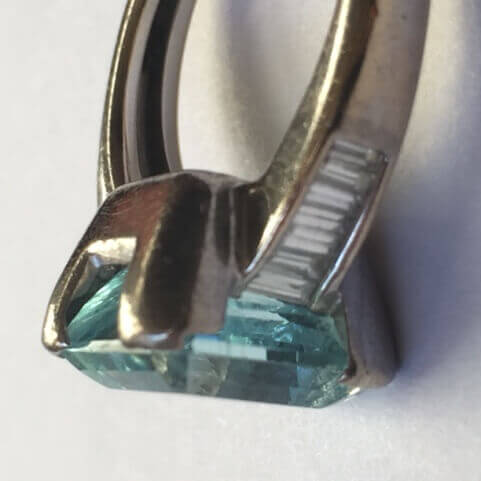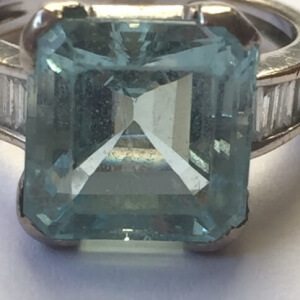 What struck me was the state of aquamarine which over the years had sustained abraded facets with some minor chips to girdle with some scratch marks to crown and pavilion. However, there was no real significant damage to stone. I put this down to hardness of this variety gemstone which is 8 on Moh scale which is a durable gemstone within the Beryl species.
I recommended to have the aquamarine repolished with a view to removing the chips and the abraded facet edges and in doing so this would bring back lustre to the gemstone. Lustre being the quality and quantity of reflected light from surface of gemstone. The result as a significantly improved gemstone with amazing lustre with very little weight loss. Please see below.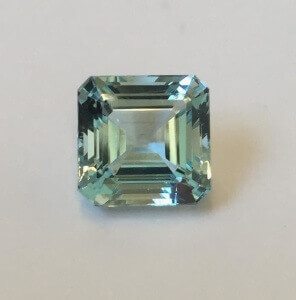 Repolished aquamarine with high lustre
I will add at this stage, I had not shown improved stone to client as at initial meeting when we discussed redesign for new mount my client wanted to enjoy the surprise on presentation.
I redesigned new mount on CAD which had centre focus of aquamarine with the stone set in a lighter collet with flat claws and mounted to a split shank micropave set with diamonds. Here was the result below and a very happy client.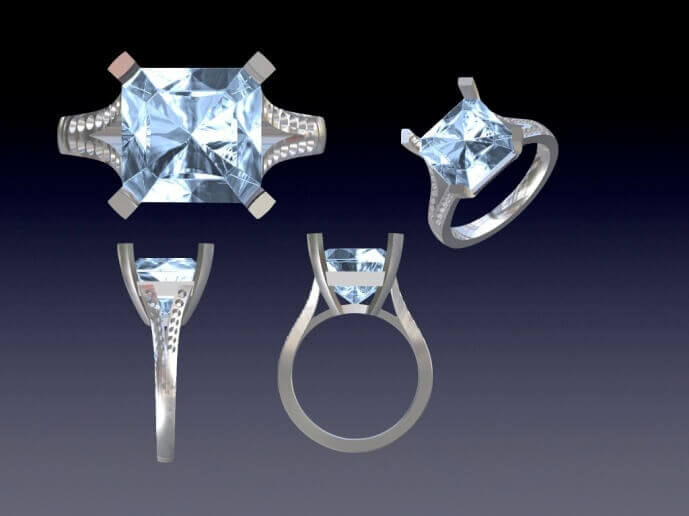 The CAD design for remounting the ring
The new mount with the newly polished aquamarine
If you require any help with any of our services or have any other concerns I will be delighted to assist you.
Please call me on 
0207 404 4022
 / 
07785 730 214
 or leave a message on the contact page