Client Commission Case Study
A musical story – 60th Wedding Anniversary of Bespoke Commission with Diamond
I was approached by one of my clients early summer this year and was asked if I would be interested in creating a 60th Wedding Anniversary present for her mother. I thought about this opportunity and to be honest, this would be my first 60th anniversary commission with a possible diamond focus,  so I embraced this opportunity. I have designed and created previously both Ruby (40th) and Golden (50th) Anniversary bespoke commissions with clients.
I replied a big "Yes" and explained how grateful I was to be commissioned to be part of this amazing celebration. I was given her father's mobile number, with view to schedule a chat but it was imminent this might be difficult as her father had to ensure that his wife would be out of earshot otherwise the cat would be let out of the bag and spoil the surprise!
Prior to scheduled call, I was briefed by his daughter that her mother was a passionate piano teacher and immediately thought of musical notes such as treble clefs and bass clefs and a befitting commission could possibly be a bespoke designed brooch. I suggested the idea of a brooch with diamond and it was agreed this commission would be ideal.
I managed to speak with my client at an opportune moment and he was in agreement with the design concept. We eventually met and I showed some design ideas including a previous design below for a pendant which could be adapted to a brooch, see below. I thought this design would be nicely finished, if we introduced a brilliant cut diamond set to a platinum collet to befit this 60th commission.  The base metal would be in 18ct yellow gold with pave diamond setting to the centre of brooch. My client was now eager and excited to see the end result and I only had three weeks to complete the commission.
The next stage was to raise CAD design, lower right which was agreed by client.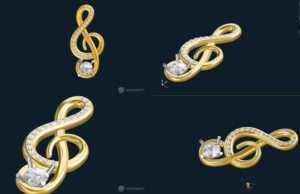 My workshop then printed the wax on the 3D Solidscape printer and the wax was then sent for casting and then returned to my workshop ten days later.  The mount was then cleaned up, the bar and pin was assembled to back of brooch and then pre-polished ready for setting of all diamonds.
The brooch was then hallmarked and finished with a final polish and presented in a lovely black box. I personally delivered brooch to my client who presented brooch to his wife in good time for their Diamond Anniversary and was told that she was absolutely delighted. I attended their granddaughter's wedding in September and had the pleasure of meeting my client's wife who was wearing the brooch on her lapel which looked stunning.
Here is the finished piece!