Over the last two weeks, there has been much noise within the industry over the credibility of honest grading from one of the franchises of the diamond grading laboratory EGL (European Gemmological Laboratory ) which has impacted on retail, the end of the Jewellery supply chain. This relates to EGL certified diamonds.
The CEO of Rapnet, a universal trading platform for diamonds which provides a valuable source for diamond brokers, has taken a stance and has refused to play host to all EGL certificated diamonds uploaded by diamond cutters and wholesalers. The reasoning is that one of the franchises, EGLI (European Gemmological Laboratory International)  has been subject to criticism over the last few years for over zealous diamond grading.
EGLI have been accused of using the Gemmological Institute of America (GIA) terminology to describe diamonds as four or more colour/clarity combination grades higher than what the GIA would have given to the same diamonds. The impact of this practice has facilitated a profit motive for retailers to sell for example an EGL certificated E/VS1 diamond to consumers at a similar price or more economical price than a G/SI1 GIA certificated diamond.
The president of the World Federation of Diamond Bourses (WFDB) has argued that this unethical standard of trading by retailers and the acceptance and support of a culture that promotes misrepresentation of diamond quality and the outright cheating of consumers destroys the diamond trade from within. The elimination of this practice should be addressed and any members of Bourses that participate in this fraud will be answerable and may be expelled.
As a member of the WFDB, I have always promoted the exacting standards of diamond certification by GIA and believe their grading standards has a set a benchmark for other laboratories to follow suit, although some may have differing nomenclature. The GIA created its gemmological standards and related terminology in 1953 and issued diamond grading reports in 1955. GIA has continuously and consistently supported its standards by issuing grading reports for millions of diamonds.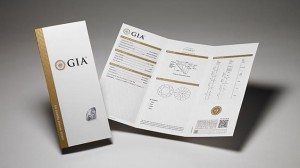 Summary of diamond grading laboratories
I would comment  as a diamond broker based in the UK, 90% of all diamonds bought by my clients are supported by a GIA certificate but occasionally,  a particular specification of diamond is requested by a client at a given time and is not available on GIA.  I will often recommend other laboratories such as HRD (Hoge Raad voor Diamant" translated as "Diamond High Council")
in Antwerp and IGI (International Gemmological Institute.) The latter is franchised around the world and in the USA,  the AGS (American Gemmological Society)  offers exacting standards for diamond grading reports and would not hesitate in recommending  all these laboratories .
So anyone embarking on a journey to find the ideal diamond for yourself or your partner please be aware of retailers selling diamonds at very attractive prices on lesser known laboratory certificates. Make sure your EGL  certified diamond is a credible one. Do spend the time, exercise due diligence and really consider the benefits of buying a diamond on a credible laboratory certificate. You will find the value will give you peace of mind and outweigh the difficulty of trying to resell or upgrade your lesser known laboratory certificated diamond at a later date.