Hallmarking can be traced back to the 13th century where Edward 1 decreed a new law that "no piece of silver should depart from a worker's hands until assayed and marked with a leopard's head". To clarify this law today 800 years hence, is to state, that any noble metal that is un-hallmarked can not be described as a noble metal without having the fineness of metal confirmed by an assay office. In this case, the leopard's head is the assay mark of London, one of four assay offices in the UK.
Hallmarking is an important requisite, as jewellery manufacture today necessitates the use of precious metals including platinum, gold, palladium and silver not in their respective 100% purest form. Most metals are alloyed with other metals for purpose of strengthening the base metal and a British hallmark offers peace of mind for the consumer on the basis of three compulsory requirements.
Hallmarking – Three compulsory requirements which include:
Sponsors Mark – The maker's mark
Metal Fineness – The percentage fineness of metal
Assay Office – 1 of 4 in UK
Date denoted by letter – letter 's' for 2017 (Non compulsory)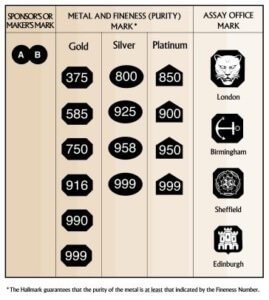 If I created a platinum ring for a client, the hallmark would read as follows:
GT – 950 – London (Leopard) – s (optional)
Where do I find the hallmark?
Ring – Located on inside of mount
Earrings – Back of mount
Pendant – Back of mount
Necklace – Located on clasp
The UK hallmarking regulations have become one of the most stringent in the world thanks to the 1973 Hallmarking Act and a flagrant misuse of a description of an un-hallmarked article by any person in the trade or business will be guilty of an offence which can result in a prison sentence!
The Hallmarking Act does protect the consumer, as the UK online jewellery trade today is flooded with imported jewellery manufactured in Asia and the Far East which on importation to UK may not be verified. To safeguard the consumer, if a jeweller sells an imported item such as a platinum ring then the item must be properly hallmarked with minimum three marks, otherwise the item can not be described as platinum, but can only be described as a ring in white!
So please be aware of proper hallmarking on your next jewellery purchase and do ask your jeweller to show you hallmark for peace of mind!