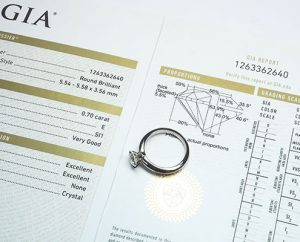 Graham Tom is an Independent Registered Valuer and is a Fellow of the Institute of Registered Valuers, an associate Member of the Academy of Experts, a member of National Association of Jewellers and a member of the London Diamond Bourse and the British Gemmological Association. Graham has undertaken jewellery valuations for private clients for the last twenty five years and can value differing periods of jewellery from turn of the century to modern day, with specialism in diamond set jewellery, polished and rough diamonds, gemstone jewellery, silver, watches and pearls. In the event of loss or theft of jewellery with no accessibility to a recent updated valuation, a Post Loss Assessment document can be provided for submission to your insurance company. Specialist Expert Witness reports can also be supplied in the event of potential litigation.
Most insurance companies in the UK today stipulate items of jewellery should be valued by a Registered Valuer who can appraise and arrive at a value employing appropriate methodology. Be aware that an incorrect valuation can invalidate your insurance in the event of a claim for loss or theft. It is essential all your jewellery is properly valued by a Registered Valuer and valuations for purpose of insurance should be updated every three or four years due to change in market conditions and the volatility of bullion and currency pricing.
Types of Valuation
There are several types of valuations all for differing purposes, below we list some of the most common:
Insurance – There are differing categories for purpose of insurance, including New Replacement Value which is often employed for modern jewellery. In addition, dependent upon age of items of property, Second Hand Replacement Value can also be employed. There are also other categories and we recommend that you enter into dialogue with your insurance company prior to visit.
Probate or Confirmation of Will in Scotland – This is a service offered to the Executor(s) of the deceased's estate.
Family Division and Divorce – A discreet service offered to both parties mediating in the division of assets.
Valuation for Private Sale – A type of valuation that ensures a fair price between both parties in the event a party wishes to sell an item of property to a friend or relative and not through an auction house.
Valuation for Loan Security – A valuation useful for loan companies, including pawnbrokers, to assist them with the value of a loan.
Make an Appointment
We can either meet you for jewellery valuations in the London Diamond Bourse, or by private arrangement at your home or office. A detailed document will be raised within five working days including letter of transmittal, schedule of property and digital photographs of your jewellery.