With auction fever slowing down, the auction houses  can stand back and recover  from the staggering realised prices for rare fancy coloured diamonds throughout the year. The message is loud and clear that demand for exceptional rarity exceeds supply of these truly magnificent Collectors Gems.
I have collated in date order the fancy coloured record breaking diamonds that have smashed all records from my last blog in 2013. For further information visit Collectors Gems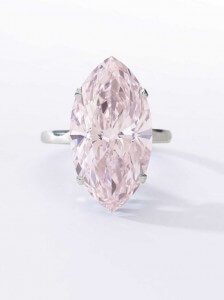 Fancy Pink Diamond Record $7.2 million
British jeweller David Morris purchased a marquise-shaped 12.07-carat IF fancy pink diamond ring at Sotherby's Geneva on 13th May. Selling for $7,239,758, it established a new world auction record for its price per carat for a fancy pink at $599,814.25.
The Graff Vivid Yellow, a sensational and rare 100.09-carat VS2 cushion-shaped fancy vivid yellow diamond ring also set new records at the same auction. It sold to an anonymous private client who was present in the room for $16,309,420 , setting a world auction record for a yellow diamond.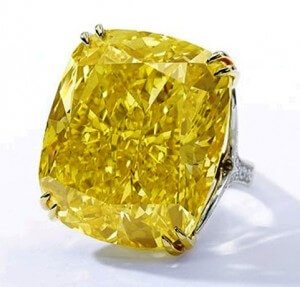 The Graff Yellow diamond Record $16.3 million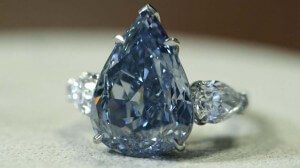 Blue Diamond Record $24.2 million
Harry Winston in Los Angeles bought the top lot of the evening at Christie's in Geneva on 14th May, a pear-shaped blue diamond of 13.22 carats that, according to the GIA, is the largest flawless fancy vivid blue diamond in the World. It sold for a staggering $24,249,680, which, at $1834317.70 per carat, is a new world auction record price per carat for a blue diamond.
This breathtaking 8.41 ct, vivid purple-pink, pear diamond was estimated to fetch anywhere between $12,903,000 and $15,483,600 at Sotheby's Hong Kong on 7th October.  Sotheby's stated that the previous world auction record for a fancy vivid pink diamond and record price per carat for a pink diamond were both achieved by a 5.00-carat fancy vivid pink diamond, which sold for $10.8 million, in Hong Kong in November 2009.
The Sotheby's Geneva November 2014 auction saw strong prices for fancy coloured diamonds and rare coloured stones.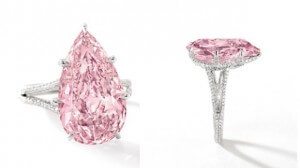 Vivid Pink Diamond Record $17.,7 million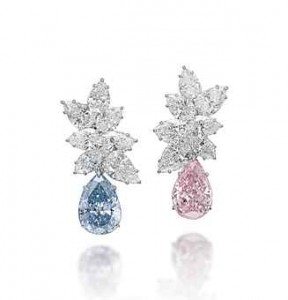 Strong prices for fancy coloured diamonds.
The item headlining the auction was a sparkling pair of Bulgari pear-shaped coloured diamond ear-pendants with a pre-sale estimate of $12 million to $15 million which sold for $16 million. They have marquise and pear-shaped diamond cluster tops weighing approximately 19.28 carats. Suspended from the clusters are 6.95-carat, pear-shaped fancy vivid blue diamond and a 6.79-carat, pear-shaped fancy vivid pink diamond.
November 20th saw records broken when a whopping, 9.75 ct. fancy vivid blue pear-shaped fetched $3.3 million a carat at the Sotheby's New York auction, setting a new high-water per-carat price for any diamond. That price tops by a full $1 million the per-carat record set just over one year ago, when a 14.82 ct. fancy vivid orange scored $2.3 million a carat ($35.3 million total) at a Christies Geneva auction.
The stone's final price – $32.6 million – also set a record for the most expensive blue diamond ever, topping the celebrated Wittelsbach-Graff, which fetched $24.3 million in 2008.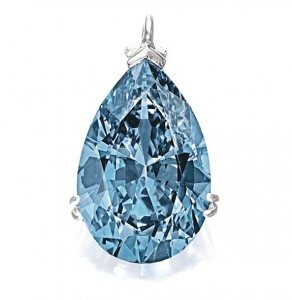 The Zoe fancy blue diamond Record $32.6 million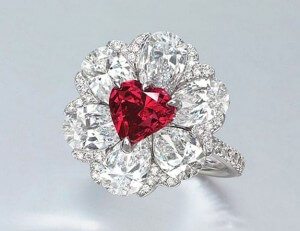 Red Diamond Record $5 Million
A heart-shaped fancy red diamond ring by Moussaieff set a world auction record at Christie's Hong Kong on Wednesday 26th November. The 2.09 ct. ring sold for $5,095,872 ($2.44 million per carat) to a private Asian investor.
"One of the finest red diamonds ever offered for sale achieved a world record price of well over $2 million per carat. It is also the most expensive red diamond ever sold at auction."