Do you have diamonds, gemstones and old vintage jewellery  gathering dust in your jewellery box? If you do, why not sort them out and let me have a look at them and I can redesign vintage jewellery and will come up with some design ideas for you.
Damaged diamonds and gemstones can be unset, recut, re-polished and reset back into your mount and then worn again for daily or occasional wear. Alternatively, I can redesign another vintage jewellery style or contemporary mount and add further diamonds and gemstones to a new mount. Your metal from old mount can be melted down and reused for your new mount as well.
My CAD design service awaits you and I can repair and refresh all your damaged jewellery mounts including retipping claws, sizing ring shanks and repolishing tired mounts.
Go on,  treat yourself after all what is the point of staring at your jewellery box when you can have great joy wearing sentimental value. Absolutely priceless.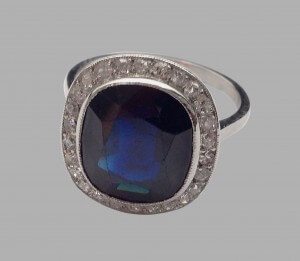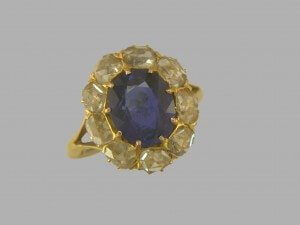 Repaired sapphire & new cluster mount