Seal engraving originated back to the Old Testament, when wax from a lit candle was dripped onto a flap closing a document which was then stamped with an inscribed stem called a seal. Seals were literally used to seal deals and communicate rank and status.
A gold signet ring or fob signet for ladies became more widely used in the 17th and 18th centuries and an unbroken seal confirmed authenticity of documents from noblemen and letters of a more light-hearted or personal nature.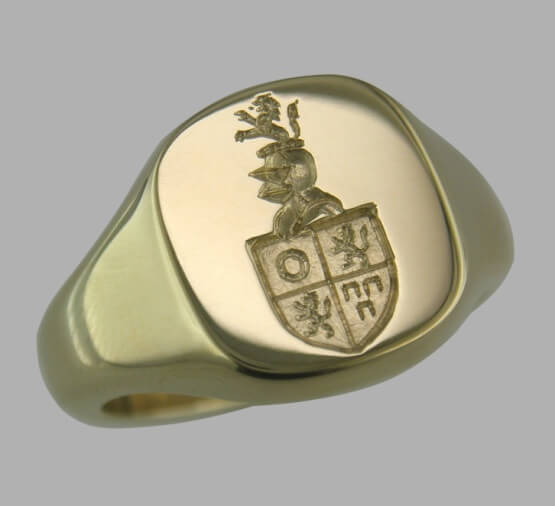 Seal engraved family crest, cushion ring
Seal engraved initials, oval ring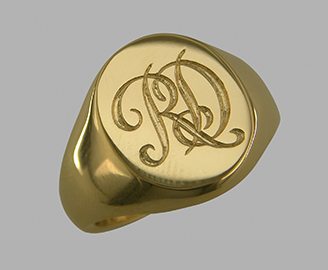 Today, signet rings are very popular and fashionable with clients and seals can be engraved in all the precious metals including the most popular 18ct yellow gold, 18ct white and rose gold and platinum. Seals can also be engraved into stone, the most popular being Carnelian, Lapis and Sardonyx.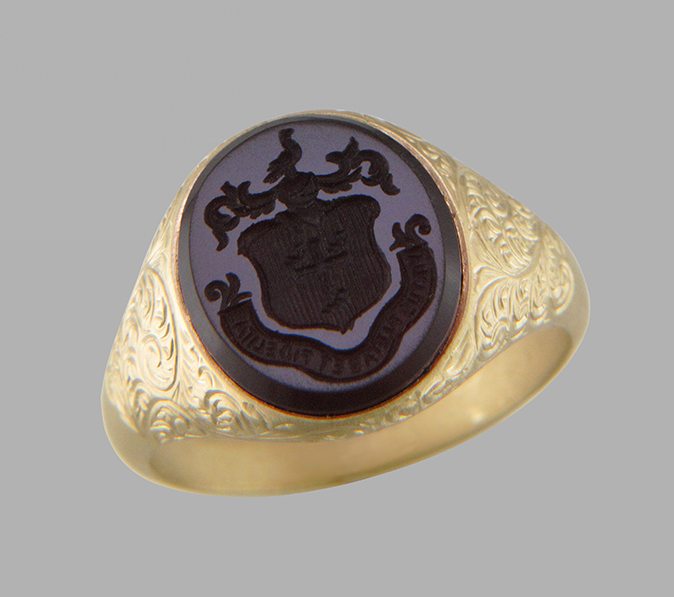 Coat of Arms/Carnelian stone
Graham Tom will cut by hand your personal design, initials, crest or coat of arms in reverse creating a negative which creates a positive impression in a wax seal or your personal design can be cut for show. A variety of shaped signet rings are available with the most popular being oval or cushion shaped. Standard stock sizes are available in differing weights which are all cast and a bespoke service is available to create any shape or designated preferred weight.
Please contact Graham Tom for more information.
Seal engraved signet ring with wax impression
If you require any help with any of our services or have any other concerns I will be delighted to assist you.
Please call me on 
0207 404 4022
 / 
07785 730 214
 or leave a message on the contact page