The eternity ring – how do I choose the ideal ring?
It happens sooner or later, you are happily ensconced in a relationship with your partner and you want to profess your love and commitment by gifting an eternity ring. With so much choice at online stores and jewellery retailers, how do I choose the ideal ring?
The history of eternity rings throughout the centuries has always been symbolic of eternal love. In 2000BC, the Egyptians gave rings as a token of eternal love and life. The concept of wearing a ring on the third finger of left hand derived from the Romans who believed this finger contained the Venus Amoris (Vein of Love) which was connected to the heart. It is the eternity ring's circular shape that refers to a lasting love that will continue forever.
Eternity rings are gifted to mark important milestones in relationships, mainly the birth of a baby or a wedding anniversary and today the concept of an eternity ring is now being presented as a 'commitment' ring for both partners which in some cases are being used as wedding bands.
How to wear an eternity ring is important as the ring can either be worn with the engagement ring and wedding ring on third finger of left hand to suit or in event a different choice of diamond cuts or gemstones are preferred for this milestone, the eternity ring can be worn on a finger of the right hand!
Half or Full eternity rings?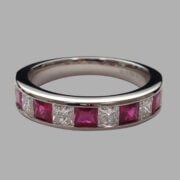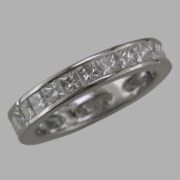 There are certain advantages to a half eternity ring, the ring will be more economically priced as diamonds or gemstones will be set to head only, with the added benefit of no durability issues to the rear of band. As there are less stones, this may sway decision to increase size of actual gems to the head of ring.
A full eternity ring will be more costly, but with the benefit of beautifully matching gems to the entire ring and one can alternate with coloured gems and diamonds to the setting. The critical factor here, is to ensure finger size is correct and also the choice of gemstones are high on the hardness scale, meaning less susceptible to abrade.
Eternity rings set with round brilliant cut diamonds , cushion cut diamonds, princess cuts or baguettes are popular choices of diamond and can be punctuated alternately with various cuts of coloured gemstones. Please ensure gemstones are high on the hardness scale.
Choice of metal and settings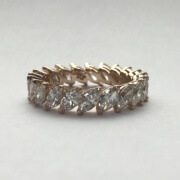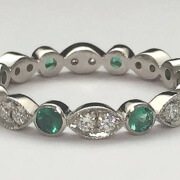 Platinum: Bezel and Grain set
Platinum, 18ct white gold and 18ct Rose gold are all popular choices for eternity rings and settings to eternity ring will be dependent on diamond or gemstone choice which will be either claw/pave/grain set, channel set or bezel set.
Treat yourself or your loved one to either a half or full eternity ring. For help and further information .