The "Pink Legacy", a very rare Fancy Vivid Pink diamond is up for sale at auction 13th November 2018 at Christies Magnificent Jewels sale Geneva with a Pre-Sale estimate of $30 million to $50 million.
The diamond has provenance which can add value to the Pre-Sale estimate as it was owned by the Oppenheimer family, synonymous with De Beers. Ernest Oppenheimer was elected to the company in 1926 and latterly the third generation, Nicky Oppenheimer who then sold their stake in the De Beers Group to Anglo American, a mining operative in 2011.
The 18.95 carat Pink Legacy is a step cut octagon and has the most desirable vivid colour saturation. The weight is significant as The Argyle Diamond annual tender which offers the rarest of the rare pinks, reds and blue diamonds to collectors and specialist fancy colour stockists around the world, will not have a fancy colour diamond stone weighing more than 3.50 carats.
There have only been four vivid pinks over 10.00 carats that have surfaced at Christies auction. In Hong Kong in November 2017, Christies sold 'The Pink Promise', an oval shaped Fancy Vivid Pink diamond which sold for $32,480,500 and set an auction of highest price per carat of $2,175,519 per carat.
Another fascinating fact is that the Type  of diamond is Type 11a, which will have no nitrogen impurities and the diamond will have been subjected during growth to deformation of the crystal structure resulting in the emission of a pink hue and colour saturation. This Type is very rare and constitutes 1-2% of all natural diamonds.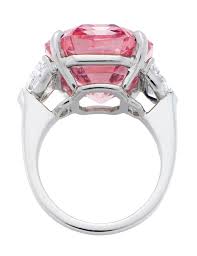 It took only five and a half minutes for a handful of bidders to close the Pink Legacy at $49, 871,250.  Harry Winston is known for its unwavering commitment to the rarest, most exceptional gemstones and has renamed the diamond the, Winston Pink Legacy